Math Challenge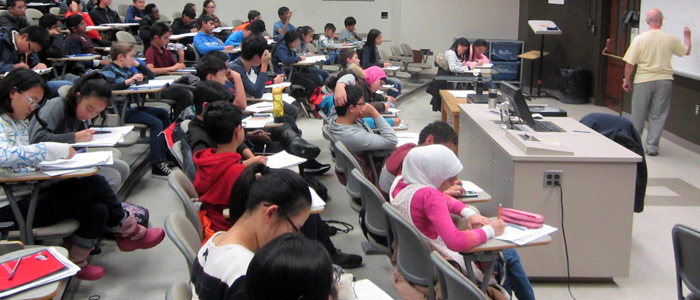 This program is for students who enjoy mathematics, wish to extend their mathematical repertoire beyond the school curriculum and prepare for mathematics contests. One registration fee of $50 allows them to attend as many session levels in which they wish to participate. To encourage early registration, the fee will be $40 for those who register on or before April 30. This money will be used to fund students competing in MathematicsTeam Contests and pay other program expenses.
Downloadable Documents 

Please duplicate this information as required. Even though we state grade levels, these are a guide and should not be considered as a restriction. For example, we are happy to have grade 4 students attend the grade 5/6 session, or grade 7 or 8 students attend the grade 9/10 session if they have appropriate desire, experience, and ability. It is expected that the students will work at home on the problems handed out in class and be prepared to discuss them in class.
Please mail your registration form and fee to the address on the form. PLEASE NOTE THAT WE WILL RECORD BUT NOT ACKNOWLEDGE RECEIPT OF THE REGISTRATION FEE. If there are any problems concerning the Registration Form, we will take care of them at the first session.
There are no books required for the programme, but we can recommend books appropriate to augment the students' studies.
We will be accepting registrations beginning April 1st  for the October - April sessions. When our maximum numbers for each session are reached, subsequent registrants will be notified and placed on a waiting list. Please register early so as not to be disappointed.
PLEASE ARRIVE AT CLASS TEN MINUTES BEFORE THE CLASS IS DUE TO START SO THAT WE CAN START ON TIME.
We reserve the right to request students to leave who behave inappropriately and/or distract others.

If you have further questions regarding the programme please contact Tom or Marlene Griffiths at:
E-mail: tgriffit@uwo.ca
Phone: 519-471-5193


---
Updated: June 16, 2022