Research

Members of the Department of Mathematics conduct research in Mathematics and its applications. The Department's research enterprise involves all regular Faculty members, postdoctoral fellows and graduate students.
Faculty members of the Department of Mathematics have research interests spanning the areas of Applied Math, Analysis, Algebra, and Geometry and Topology:
Analysis




Janusz Adamus
Tatyana Barron
Masoud Khalkhali
Martin Pinsonnault
Rasul Shafikov
Gord Sinnamon
Algebra




Janusz Adamus
Dan Christensen
Graham Denham
Ajneet Dhillon
Matthias Franz
Chris Hall
Rick Jardine
Chris Kapulkin
Nicole Lemire
Jan Minac
David Riley 
Geometry and Topology




Janusz Adamus
Tatyana Barron
Dan Christensen
Graham Denham
Ajneet Dhillon
Matthias Franz
Rick Jardine
Chris Kapulkin
Masoud Khalkhali
Nicole Lemire
Martin Pinsonnault
Applied Math




Matt Davison
David Jeffrey
Lyle Muller
Greg Reid
Lindi Wahl
Geoff Wild
Pei Yu
Xingfu Zou
Some Department members specialize in areas that bridge these classifications and are applicable in other disciplines. Specific interests include stacks, derived categories, algebraic combinatorics, combinatorial algebra, number theory, graph theory, cryptography, Galois cohomology and quadratic forms, homotopy theory, higher categories, homotopy type theory, toric varieties, noncommutative geometry, quantum groups and Hopf algebras, analytic and CR-geometry, symplectic geometry, harmonic analysis, singularity theory, and mathematical physics.
See the  Current Research Projects page for  a description of ongoing research projects in the Department.
---
Please also see faculty and Postdoctoral Fellow Profiles on their respective webpages.
The Department maintains a number of active seminar and colloquia series that attract some of the world's most prominent mathematicians. 
Colloquium
The Distinguished Lecture Series
Algebra Seminar
Analysis Seminar
Geometry & Topology Seminar
Noncommutative Geometry Seminar
Mathematical Biology Seminar
Dynamical Systems Seminar
For a complete list of upcoming and past events visit the Math Department Events Calendar on the home page.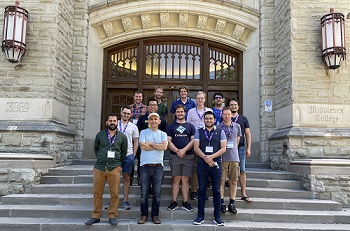 Workshop on Noncommutative Geometry, Free Probability Theory and Random Matrix Theory
June 13 - 17, 2022
,
Western University